New Soca Artiste Wins big During Launch of Vincy Mas in USA
By Maxwell Haywood
Michelle 'Hibiscus' Hillocks created history by spectacularly winning both the New Song Competition, and the first ever New Break-out Artiste prize during the tenth staging of the launch of Vincy Mas in the USA. All this sensation took place on Saturday, May 7, 2016, at Bamboo Gardens in Brooklyn, New York, and was organized by Level Vibes, ably led by Ainsley Primus and Caiphas "Super Eyes" Cuffy.
After the singing of the national anthem of both the United States and St Vincent and the Grenadines (SVG) and remarks by SVG Consul General Selmon Walters and Minister of Tourism, Sports and Culture Cecil Mckie, 10 artistes competed in the New Song Competition for the Soca Devil Trophy. They included: Shadique 'Shaddi' Paul with his song "Soca all year"; Francis 'Striker' Brown with "Gimme Piece Ah Dat"; Maxwell 'Zeagay' Samuel with "Stop Smoke de Cocaine"; Michelle-Ann 'Hibiscus' Hillocks with "Riddim"; Mervyn 'Bobb MC' Bobb with "Get off ah me"; Prim Adonna Bascombe with "Kamasutra"; Dennis 'De Original Honey Boy Bells' Jackson with "Fire Power"; Kenroy 'Jakie' Jack with "We jamming"; and John Dougan" with "Let's do again".
At the end of the show, the MCs Hailes Castello and Bennett Straker announced the decision of the judges, in which first place went to Michelle-Ann 'Hisbiscus' Hillocks; second place to Kenroy 'Jakie' Jack; and third place to Dennis Bowman.
Winners received cash prizes from Level Vibes, and also trophies and a plaque sponsored by newly created Cultural Association of Vincentians in the USA (CAVUSA). Junior "Soca Jones" Jones, Joanne Legair, and Elmo "Magic" Christian served as judges.
'Hibiscus' dethroned last year's winner Chang- I, who did not appear to defend his title. Performing for the first time at this level of competition, she displayed full confidence in her ability to deliver. From the time Hibiscus hit the stage, it was clear that she was in command and had all intentions of creating a big impact on the judges and audience, which she did in fine style. She made it easy for the judges to select her as the winner.
With a pulsating pace fit for Back Street on Carnival Monday, Hibiscus let the world know the vital function of soca music to Caribbean people. In her song "Riddim", she highlighted the African foundation of soca, hence it's rise and role in Caribbean societies. She spotlighted and expressed pride in the wining dance style as a significant part of Caribbean culture. She singled out the power of the soca rhythm as responsible for the wining done by Caribbean people during carnival and in parties.
Born in Arnos Vale, St Vincent and the Grenadines, Hibiscus now resides in Philadelphia. She expressed great delight in her accomplishment of winning the New Song Competition and the New Break-out Artiste prize. "I am totally mesmerized and truly happy. This is the first time I am performing in such a big competition", she gleefully said.
Hibiscus expressed her deep love for music and explained that her singing talent was discovered at a young age in school and church, and members of her family have been involved in music. Referring to those who have assisted her in her rise as a soca artiste, Hibiscus credited her teachers at Sion Hill Primary School and St Joseph's Convent School in SVG, Cauldric Forbes as a song writer, and Ainsley Primus.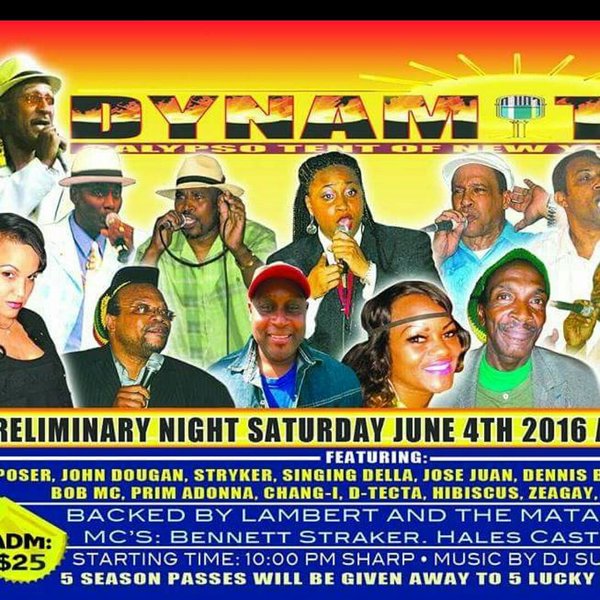 She now looks forward to performing her other song on June 4, 2016, during the Dynamite Calypso Tent preliminary judging of SVG National Calypso Monarch Competition for Vincy Mas 2016, to be held at Café Omar in Brooklyn, New York. Lots of attention is now on this upcoming show when the calypsonians in the Vincentian diaspora in North America will deliver their calypso offerings for Vincy Mas 2016.
Vincent 'Groovy D' Kennedy, Carlos 'Rejector' Providence, and Phill 'Phill Patch' Baptiste of the Dynamite Calypso Tent also made guest appearances. They were joined by representatives of the 20th Century Steel Orchestra, DJ Eyes and DJ Lagga.